Note: This post contains affiliate links, meaning, I recommend products and services I've personally used and may receive a commission if you purchase them too. This commission comes at no additional cost to you.
Wondering how to write the best Fiverr profile description for your seller account?
Don't worry! Today, I'll share some tips & tricks with you to write a catchy description in order to make your Fiverr profile stand out.
Let's go!
Why Fiverr Profile Description Matters
It's natural that when you commit to work with a professional or a company, you always like to know who exactly that person or company is. Maybe you check them on Google, find out their LinkedIn profile, or take a look at their social media accounts. You just want to be sure about the people you are trusting with your hard-earned money. The same is the case with buyers on Fiverr.
Whenever a buyer lands on your Fiverr profile, the first thing that he/she usually reads before clicking the "purchase" button is your profile description. Thus, it's important to invest some time and craft a profile that tells who you are, what makes you unique, and why buyers should choose you. From your profile picture to your profile description, fill every section carefully to show your talent and skills.
Watch More Videos Here: ASH KNOWS Simplified
How to Write Best Fiverr Profile Description
Here are some tips to create an engaging description for your Fiverr profile. Have a look:
1. Use Basic English
Always write your profile description in simple English. Most of the buyers on Fiverr are non-native English speakers. They find it hard to understand difficult words and complex write-ups. That is why your description should be easy to understand. Make sure to have a correct sentence structure and good grammar. Avoid any kind of typing or spelling mistakes. Proofread your description twice before adding it on Fiverr.
2. Provide Brief Introduction
Write your brief introduction in a sentence or two. Keep it very short and to the point. Don't write off-topic details about yourself. Remember you have a limit of 600 characters for this section so every word counts.
3. Talk about Your Experience
Your profile description should contain a short detail of your work experience. Write about the experiences that are relevant to the services you are offering on Fiverr. While it's important to keep the description professional, you should also let your quirks and unique personality shine through. You may also mention some additional details that can make you stand out among other sellers. Show that you have something special to bring to the table.
You may visit my Fiverr profile here for a better understanding.
4. Focus on Customer Satisfaction
Customer satisfaction is an integral part of running a business on Fiverr. Define in the description that you care about your buyers and it is an important principle that guides your work. There's an old adage that says a customer will remember the service far longer than he'll remember the price. While this may not be true of all the buyers, it does show the comparative impact that excellent customer service can have.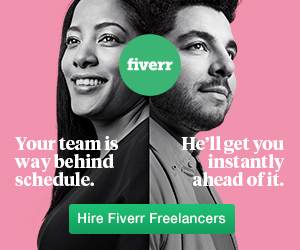 5. Write a Clear and Sharp Description
Your profile description should build confidence and enthusiasm in buyers. It should have a flow and clarity in it. Remember, this description is not a cover letter so there is no need to add a lot of formalities and unnecessary details. Write straight to the point and don't list the services that you wouldn't be able to deliver.
6. Add Call to Action
Always write a call to action at the end of the description. Some buyers just bounce off without contacting you because they have unanswered questions in mind regarding your services. So, encourage the buyers to leave a message if they have any query or confusion. Ask them to contact you to see your samples or to make a purchase.
Examples of Good Profile Description for Fiverr
Here is the description that I have written for my own Fiverr Profile. It covers all the above-mentioned points.
Some other samples:
Examples of Bad Profile Description for Fiverr
Here are some templates of poorly written Fiverr profile description:
Issues: Poor sentence structure and grammar. No flow in writing. No call to action. Plus, there's no need to call your buyers "Sir" or "Madam". You are not in a corporate job. Address the buyer with his/her name. This sounds more confident and creates a connection with the other person.
2. Issue: This seller has mistaken Fiverr profile description for CV's objective section. 😆
3. Issues: Transition from 'I' to 'We' after a few sentences. Selling services at a very low rate. No call to action. The description is giving the impression that the seller is in desperate need of work and will agree on anything just to get the order.
Note: Never copy someone else's profile description because you may get suspended or banned from Fiverr for doing this. Invest some time and use your own creativity to write a great description.
Summary
Writing a catchy profile description for your Fiverr account is extremely important, especially if you are a new seller. Most of the time, profile description is what actually gets buyers to make a purchase from a new seller.
Thus, keep the above points in mind before crafting a description for your Fiverr profile. Don't take this section for granted and never write random things here. Be very specific and precise.
In the article, we'll learn how to create a gig on Fiverr. Stay tuned, y'all.
If you have any questions in mind, do let me know in the comments. You may also ASH ASH to get a detailed answer.

Some Personally Chosen Articles for You to Read Next: